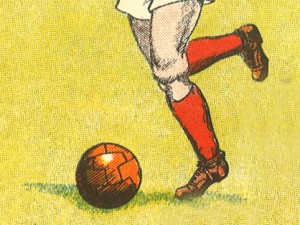 This time last year, I would have been able to tell you how many days, hours, minutes and seconds there were until the Championship season kicked off. Twelve months later and I'm shocked to discover, via the Sunday paper that it starts next week….Not a testament to my alleged football fickleness, honest! Indeed I confess there have been a couple of times when the mouse hand has twitched as I spot a LCFC related story on the BBC Football website, but I have resisted because I am following the rules of this footballing experiment. And it seems about time I shared them with you, rather than just having them in my head, it also might stop a few incredulous questions (or provoke more!)
For the 2013/14 season there will be
1. No attendance at any Leicester City game (unless they happen to play the mighty St Albans in a cup match)
2. No watching of watching of LCFC games on TV (unless they happen to etc etc)
3. No listening to radio commentary of LCFC games (unless…blah blah)
Can I point out there will be no death-defying leaps across the living room to turn off any form of electronic media when there is a LCFC related news items. To avoid injury, I will just hum loudly in an attempt to drown out the story.
4. No LCFC website checking
5. No reading of already subscribed to fanzine (the year's subscription will be forwarded to my mum for reading at the end of the season)
6. No LCFC items to be utilised (see end of post)
7. No corporate hospitality/tour of the training ground/dinner with the players (thanks for the offer though David…..mate)
8. No crying should news filter through that LCFC have just lost in the second leg of a play off semi-final in a heart-breaking and dramatic fashion….This season's tears are for SACFC only.
As Diane said, "I am sorry but this blog is going to get better for us, the better Leicester do."
I will allow myself to read a match report if there is one in my paper of choice but that is because I read any football match report (and they are my rules, so they can look how I want, she said in a gorwn up fashion)
I can tell you know, there are 18 days, 20 hours and 30 minutes until SACFC opening fixture, away at Poole Town. I won't be there but just try and stop me for the first home fixture some 48 hours later.
TLF