Well there I am misery-ing on about there being no upsets and then WALLOP.
The curse of Champions as Spain lost to Chile. Yet again their keeper, know as St Iker (possibly not any more) did nothing for the cause. Although after a staggering 843 appearances for his country I don't think people should be too rude about him. Tired? Too much loyalty to squad members who should have been replaced? Whatever the reason for Spain's underperforming let's remember that Chile were VERY good. I'd like to see them do well as they are great to watch. I'd also like to see them stopping wear blue pants under white shorts.
The result was a gift for headline writers and in the end I went with Mr TLF's suggestion, although I do like to tip my hat to Liza Doolittle with a bit of 'Chile rain on Spain's plain.'
I thought the ref; Mr Geiger had a good game too. You can always count on him (BOOMBOOM!)
For awhile there I thought my new Holland shirt would become christened TLF Shirt of Doom. It certainly put me off wearing my England shirt today. In the end the Aussies were made depay (BOOM) by the substitute's long range shot. What a game…to listen to on the radio and then follow on your phone…still the phone bit did mean escaping Mr Savage.
Yes Tim Cahill's goal was immense but to spend five minutes telling us that WAS the goal of the tournament was short-sighted and a bit tedious. All it takes, you poor excuse for a human Afghan hound, is for someone to score the same style of goal from a few yards further out and that could become the goal of the tournament. Any of us could sit on our settee and say that..but I think you get paid for a greater degree of insight. Yeah. OK. I'll let this one go…well just one more thing. It's Robben, not Robin (as in Christopher).
If I can beg your indulgence it is kind of do or die for England today. With or without them I will still be glued to all things World Cup, but it does provide extra interest and I can't help but like Roy Hodgson. Although that shot of his moobs in the background of the film showing the England masseur get his birthday ice bath from the players was a bit unnerving. Also there is just a bit of personality and exuberance surfacing in the squad. Daniel Sturridge provides a certain joie de vivre, whether it's joining in with a session of capoeira on a team visit to a favela or complaining (with tongue firmly in cheek) about Gary Lewin diverting attention from Sturridge's first World Cup goal by dislocating his ankle.
I know that some readers may think that the mighty Saints reference yesterday was a bit non-global…well looky here….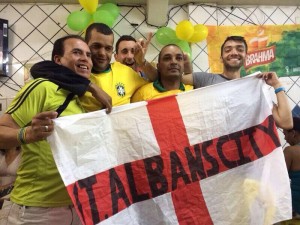 A corner of the samba nation that will thanks to Mark, be forever St Albans. I could at this point mention Leicester's opening fixtures that involve Everton, Chelsea and Arsenal, but that would just make me break out into a cold sweat.
Apart from England, it is Greece's second match late tonight, although sadly I think it could shortly be time for one member of my international shirt collection to make the long walk of shame back to the wardrobe.
Your usual phrase of the day is today replaced by shameless and patriotic plea of the day – English. Normal service will resume tomorrow:
Dear England
Please don't eff it up. I know that our expectations were lower than a low thing on a very low day singing, "I'm so bloody low", but that doesn't mean we wouldn't quite like to see you make it out of the group stages. And if it must end in defeat then make it glorious not ignominious. Fight them on the beaches and fight them on the pitches (metaphorically obviously).
Churchill TLF
YESTERDAY'S RESULTS
Australia 2 Netherlands 3
Spain 2 Chile 0
Cameroon 0 Croatia 4
TODAY'S GAMES
5pm Columbia v Ivory Coast, Grp C
8pm Uruguay v England, Grp D
11pm Japan v Greece, Grp C
Dish of the day – A hopefully lucky Yorkshire pudding
http://www.bbcgoodfood.com/recipes/9020/best-yorkshire-puddings
Website of the day – set of 5 second films illustrating iconic World Cup moments. Love it. http://f-i-v-e-s.co.uk/