With Christmas only two sleeps away, I thought it might be worth reviewing last year's missive to the big man; Saint Nick, Father Christmas, the Present-Meister, Mr Claus……
December 2014
Dear Santa,
After a year of being a very good TLF, regularly writing my blog and hardly ever annoying Mr TLF or prioritising football over him (gulp), I was hoping that you might oblige me with the following gifts. They don't all have to come immediately, during the impending 2015 will do just fine.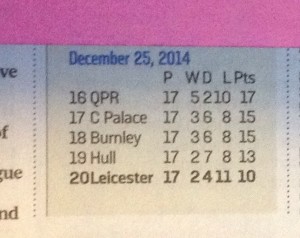 As you will see, things are looking a bit ropey for one of my teams and I know it is a massive ask and one that will potentially keep you and your elves busy until the next century but I was wondering if a jaw-dropping-relegation-avoiding Great Escape might be possible around May?
A steady and dignified hand at the tiller of the aforementioned football club would be nice too, or if that particularly cupboard at the North Pole is looking a bit bare then one that polarises opinions but to whom we will have to be eternally grateful will do.
While we are on the subject of managers, what I really wouldn't want by the way, is for the ostrich-whisperer to be replaced with someone who is generally considered to be a bit of a Tinkerman and past his best…after all TLFs always know best what their club needs.
Two tickets for Euro 2016, which come the draw turn out to be England v Wales wouldn't be a bad idea.
Very importantly I would like to see through the hard work and dedication of some fellow Saints supporters, a new galvanising and community focussed fans group set up. Must meet in a pub.
A new blue and lucky Saints bobble hat that has relegation-avoiding powers would be a bonus. Probably don't need that until the winter of 2015.
To show there is more to me than the beautiful game I would also very much like an English monarch buried in my home City.
A new government (in retrospect maybe I should have been a smidgen bit more specific on this one).
A trip to the National Theatre to see a genuinely good drama about football. Must involve fellow Saints supporters and too much wine.
Finally, to be top of the premiership in twelve months time…..yeah ok, Santy Claus, I won't push my luck.
And don't worry I'll get my own Christmas jumper.

Merry Christmas!
Enjoying-it-while-it-lasts-and-not-daft-enough-to-think-it-will Fox