Part 1
So there you go.
Against the odds.
Making the impossible, possible.
We did it.
St Albans City avoided relegation.
Yeah I know that's not technically the BIG story. The one you expected. But as far as Hertfordshire is concerned it's HUGE. Plus TBF (to be fair) TLF, it's in my comfort zone. Relegation battles that's what TLF is used to, with the occasional smattering of promotion to keep the wolf from the door. That's my comfort zone. Not worrying about the possibility of achieving or throwing away internationally reported football glory. Plus if nothing else let's show a little respect to chronological order. And the mighty Saints were the first up for a date with fate (see what I did there…) on the Satday.
And fate was already on the side of the Saints (that's how to avoid any apostrophe indecision). Midweek results from elsewhere meant WIN and Saints were safe. Anything else and there would other results to factor in – nerve jangling, definitely and then you have to factor in boys on their smartphones with real time league tables providing the most unwelcome updates EVER.
Even with so much at stake and a general consensus that knotted stomachs and utter panic were the order of the day many people still found time to wish TLF and Lesta luck for the following day. It's called being kind and the people of my adopted team do it brilliantly. And in spades (although Knocky's premature rendition of 'Happy Birthday to the Lost Fox' wasn't necessarily 'kind' on the ears).
Fortunately for our blood pressure and stress levels turns out the players from SACFC were up for doing it in spades too. If the first goal was greeted with relief and a few tears (laydeez you know who we are) and sharing between three of a celebratory pint (trouble with a massive crowd is beer queue excess), the second, third and fourth were greeted with jigs of joy as we realised that there was not a chance the mighty Saints would lose this one.
We are the Mighty Saints and WE ARE STAYING UP!

Just time for a pitch invasion by small children (Security really didn't know what to do with that one…), a couple of beers to congratulate the manager and players on a great escape (stats to follow in my end of season blog), cheer on the mighty Sir Lee of Wood – massively deserved clubman of the year, prove that our centre half Darren Locke is quite tall….or maybe Donna, Julie and TLF are a bit short.
……..AND then go home, worrying ever so slightly that perhaps rationing applies to football happiness – maybe if one City avoids relegation on the last day then all other things being equal the other City can't succeed – like some new and cruel law of physics.
Part 2a
Settle down in front of the TV chez TLF. Lesta just need to beat Manoooo.
They don't.
In fact for a good chunk of the first half and the latter part of the second they contrive to lose but come away with a draw. TLF wearily shakes her 'disappointment comes naturally to a lifelong Lesta fan' head, despairs of the excess media coverage which has 'clearly jinxed us' and remains calm.

Part 2b
Settle down in front of TV, at TLF Towers. Lesta need Spurs to lose or draw.
By half time they are doing the opposite.
TLF cannot bear it and is convinced on basis of no evidence whatsoever (other than 47 years of ups and downs with the emphasis generally on the latter) that her team is doomed to failure. TLF adopts the mature response, stomps off upstairs and hides under the duvet in the dark.
Mr TLF remains calm, staying in front of the TV and thus wins the right to be the first to inform TLF that her team, little Lesta City have won the Premier League.
Gulp….

LESTA CITY HAVE WON THE PREMIER LEAGUE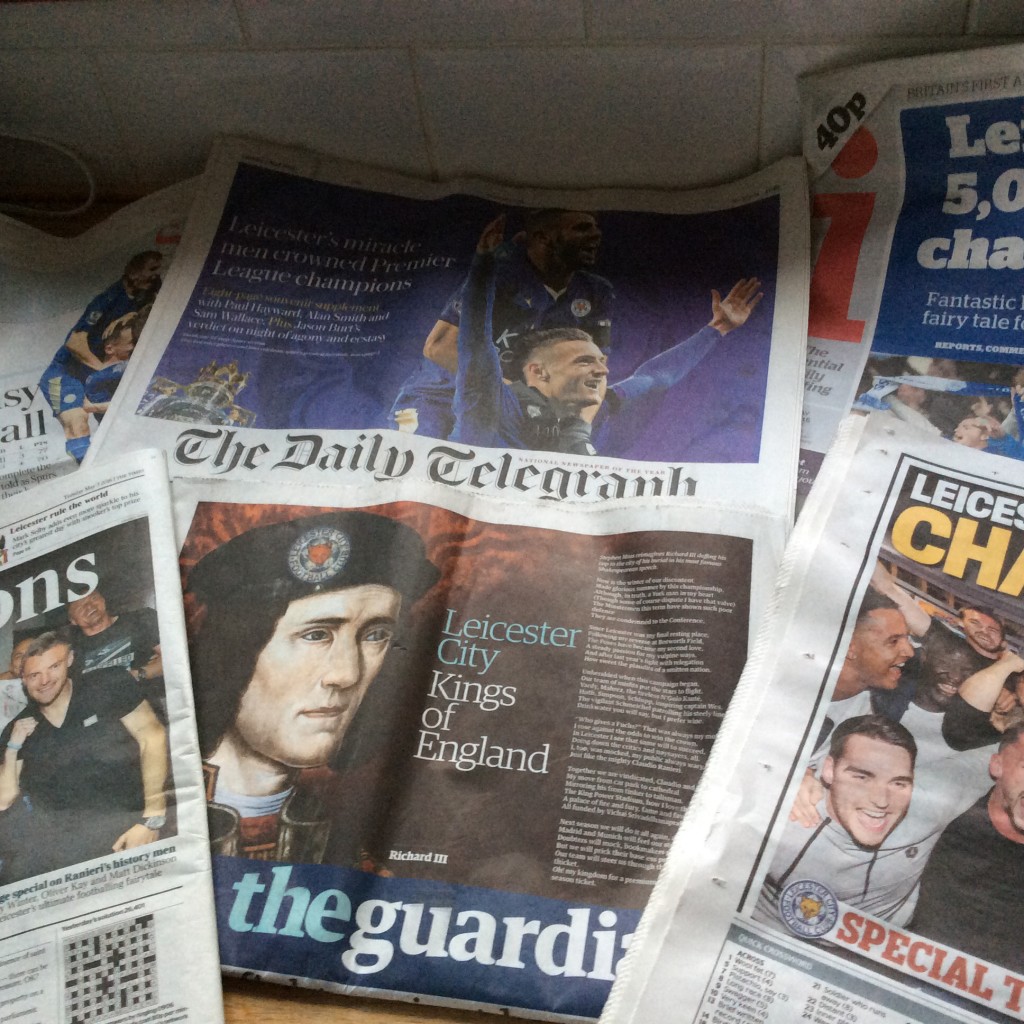 Match stats
St Albans City 4 Dartford 0
Attendance: 1,310!!!! Please come back more often….but don't use the bar (see below)
Bar queues sort of jumped at half time (to my eternal shame): 1
Unlucky raffle and goalden goal tickets purchased: 12, but I don't care
Beers consumed: More than intended.
Snackage: 1 sausage roll. I don't even like sausage rolls. Oh and there is a vague memory of appropriating a piece of pizza off a small child. OOPS.
Blogging-from-Cloud-9 Fox