Do you own a TLF?
Do you find that match days when they are technically 'in your company' but are really keeping up with their teams via the twitter, the what's app, the telly or the wireless, aren't really that much fun?
Does the afternoon or evening prove tense and fraught?
Does logic and reason vacate the building?
Does your TLF ever look like this?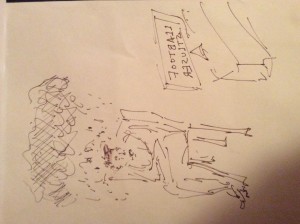 Fear not. Emerging evidence from closely controlled trials in Hertfordshire indicate that help may be at hand. It appears that the impact of bad footballing news is significantly reduced when your average TLF is allowed access to a help yourself lunch buffet at a 4 star hotel. Distracted by the smorgasbord of unlimited savoury delights, the news that her team has gone behind AGAIN is greeted with no more than a brief shrug before a return to the cold table for a small smoked salmon top up.
And the ignominy and (subsequent stroppy swearing) of conceding from a set piece again, having got it back to level pegging, is easily avoided by shoving a TLF in the direction of the pudding buffet. Several times. Unlimited crime brûlée access seemed to have a particularly successful effect on last week's trial participant.

Interestingly the early results do also suggest that the impact can go too far, with a late equaliser for the Mighty Saints, generating not even a smidgen of celebration when the experimental TLF is sitting in its own hot tub.
Clearly this is ground breaking therapy, with significant benefits for TLF stress levels and those sharing their environment, but further more comprehensive testing is required to ensure that these results weren't a one off. Obviously such intellectual research doesn't come cheap so all donations to this worthwhile cause are welcome.
Dr Fox